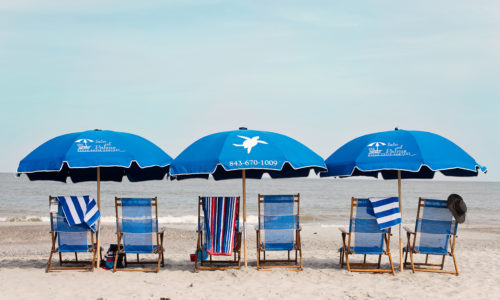 Select your first rental day and last rental day (do not select each day in between)
Starting at $20 per day
COVID-19 Update 05/21/2021:
If the calendar shows RED, we are SOLD-OUT.
We are temporarily working with LIMITED staff due to national labor shortages. We humbly ask for your patience with us as we could expect delays of up to 45 minutes for morning SET-UPS.
COVID-19 UPDATE: Please click HERE for our all COVID-19 updates and sanitation guidelines. 
For NEXT DAY and SAME DAY orders until 1 p.m.: 
If you place your order before 7 p.m the night before, your chairs will be set up on the beach by 10 a.m.
If you place your order between 7 p.m.-9:30 a.m. for that day, your order will be set up on the beach by 11 a.m.
For SAME-DAY orders placed after 9:30 a.m., your order will be set up on the beach within 1hr-1.5h.
We are the premier beach chair and beach umbrella rental company on Isle of Palms. Your experience visiting our beautiful beach matters tremendously to us. That is why we will do everything we can to make sure your trip to Charleston and Isle of Palms leave you feeling relaxed, refreshed and more than satisfied. Having perfected our rental process based on years of experience, and we ensure that renting with us will be one of the easiest parts of your beach vacation.
If you are looking for a little less heat, a beach umbrella will provide a little bit of shade while enjoying the coast for longer periods of time.  We cater to your specific vacation needs, and we are ready to help you whether you need a future rental package or a last-minute, same-day rental right now.
Beach umbrellas will be set-up on the beach at your nearest beach access on Isle of Palms or Wild Dunes with a "Reserved" name tag on the chair. For orders placed the day prior to or before, beach umbrellas will be set up at 9:30 am. Umbrellas will be picked up after 5:30 pm each day. Prices for beach rentals are tiered and depend on the number of days you order. Our daily rental prices go down as the duration of your rental goes up. We proudly service the Isle of Palms and Wild Dunes in regards to all of your beach rental needs.