IOP BEACH CHAIR
family owned and operated
Travel is important to us, especially with our family. But travel can be so exhausting!
Let us do the heavy lifting for you while you relax on vacation in Isle of Palms and Wild Dunes. At IOP Beach Chair, we professionally set up commercial-grade beach lounge chairs and 7.5′ drilled umbrellas on the beach daily. You can rent for the day or for the week. There are a variety of rental options that offer daily, multiple-day and weekly price breaks. If you place your order before 7 pm, we will have your chairs and umbrellas set up by 10 am the next morning with a name-tag attached to the chair. We begin pick-up after 5:30 pm and service to nearly every beach access point in Isle of Palms and Wild Dunes.
About Our Beach Rentals
Also, we rent beach cruiser bikes, surf and boogie boards, beach wheelchairs and so much more. All of these rentals are available with free delivery to anywhere in Isle of Palms, Wild Dunes and Sullivan's Island. Our company takes pride in helping you have the best beach vacation with the least amount of work on your part. You are not just a customer. You are family. And that is why we approach each rental with the same love and care we would use to take care of our own family.
So whether or not you are looking to relax all day or get in the middle of the action, Isle of Palms Beach Chair Company has exactly what you need. With over 20 years of business experience,  we always strive to make customer service and satisfaction our number one priority. Check out our Tripadvisor to see what the 5-Stars are all about!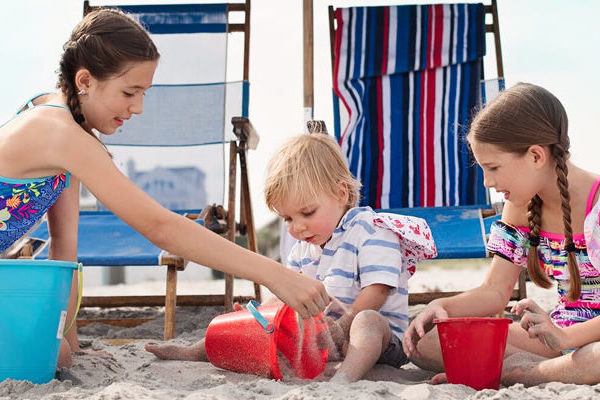 OUR TEAM
island-owned and operated
IOP Beach Chair Company is still family-run after decades in business, and we feel so lucky to call Isle of Palms our home.
We take great pride in our beach and island in IOP. Following a few basic rules will help to preserve our beach and make Isle of Palms a place we can enjoy for many years to come.
Why Rent vs. Buy beach chairs and umbrellas?
#1.) Reduce your waste. Most chairs and umbrellas for sale at stores are made of plastic and inexpensive metal and do not last long. The umbrellas that local stores sell are unable to combat the high winds of our coast on Isle of Palms, rendering them "single-use". Our rentals chairs are made in the USA from solid oak and our umbrellas are wood and marine-grade canvas. We are able to reuse our products over and over.
#2.) It is less expensive to rent than to buy. We keep our rates as low as possible to be able to serve as many people as we can with our beach services. The retail value for two chairs and one umbrella is well over $600. Our rate for a 6-day week, including set-up and take-down each day, is only $165.
#3.) Support family-owned local business. We are a small, family-owned business and work to support the island we love by patronizing other local companies. Thank you for helping us keep our beach clean, safe and respected. We are so happy to be part of your beach experience because we know you'll cherish the moments you spend here- just like we do.